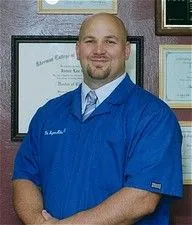 Dr. Hiles graduated from Sherman College of Straight Chiropractic in Spartanburg, SC in 2005. Prior to studying at Sherman Chiropractic School, he attended Lafayette College on a football scholarship where he received a B.A. in biology. Dr. Hiles is a 1996 graduate of Connellsville Area High School. He is licensed by the National Board of Chiropractic Examiners.
Dr. Hiles interest in chiropractic began after being successfully treated by a chiropractor for a "stinger" received while wrestling. But it was a low back injury sustained while playing college football that cemented his future career choice. After the traditional medical approach failed, it was chiropractic that restored him to preinjury form.
Dr. Hiles has been practicing in his current location since he began in 2005. Since he began practicing chiropractic, Dr. Hiles has kept up to date on many continuing educational classes involving the use of traction to treat low back pain and the role of therapeutic exercises to strengthen and stabilize the spine. His continual education is to ensure that his patients receive the most comprehensive and advanced chiropractic care.